A shipwrecked woman.
The uncharted island.
Jane Porter craves a thrill, but when marauders scuttle her ship and she washes ashore on an island inhabited by animals and one sexy wildman, that's when the real adventure begins. Dependent upon her vine-swinging rescuer who acts more ape than musclebound man, she places her survival in his rugged hands and relinquishes her desire to his raw sensuality.
For more seasons than he can remember, Tarzan has lived among the tiny island's gorilla band. Instinct propels him to save the female he finds half-dead in the surf, and gazing into her eyes, his mating tool dances an ancient tribal beat.
While the pirates search for their bounty, Tarzan and Jane are in danger. To survive, they'll have to hang onto each other as they swing for dear life. Their adrenaline-rush of passion among the canopy of the jungle threatens not only a dizzying fall from a great height, but also a tumble into love.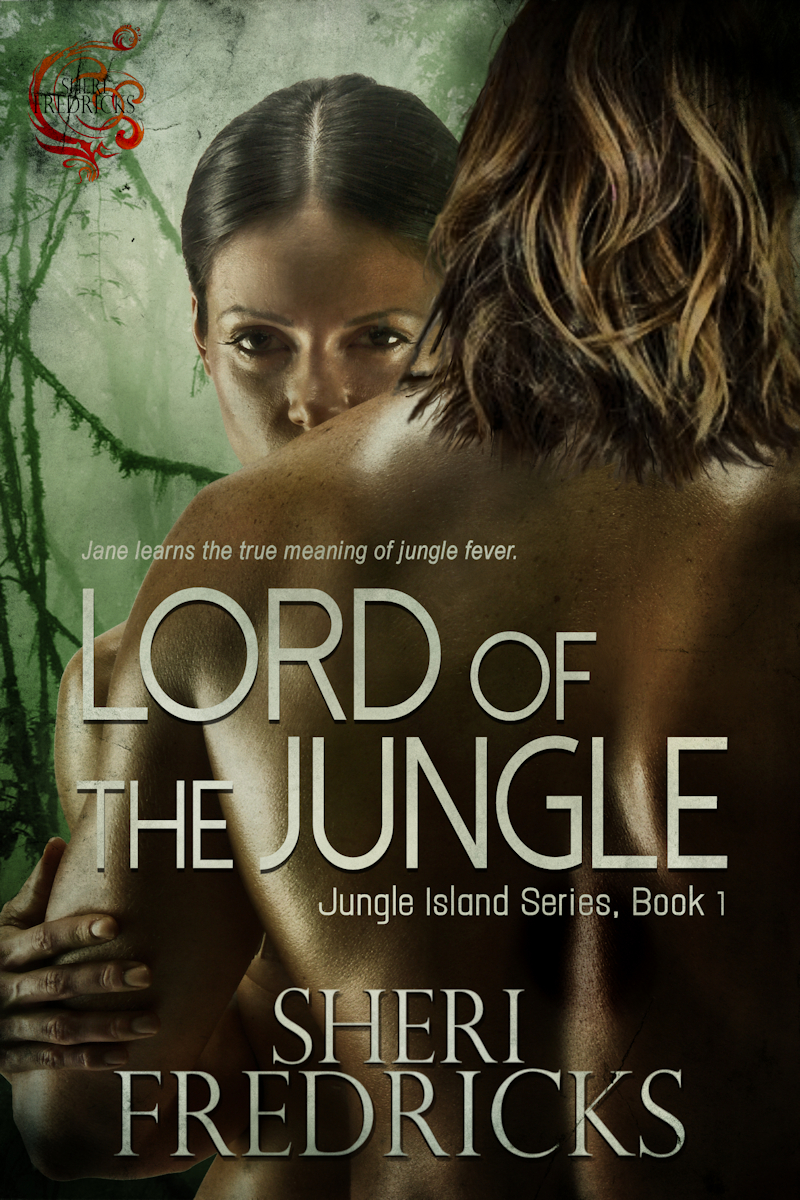 Steamy Excerpt
The trees and vines and all the living creatures were his home. Vital to his existence and that of his ape family.
None of it mattered as much as what his female would do next with her mouth.
Laps from her soft tongue along the sides of his hardened shaft was agony in perpetual bliss. The sun sifted through the canopy's swaying leaves to splash her in varying shades of shadow and light. She licked her lips, the pink tongue darting out to tease his resistance, breaking him down one heartbeat at a time.
Her hungry eyes climbed up his body and met his. "Can I? What would you do if I did?"
The unique color in the intensity of her stare drew his attention. If only they could communicate, he'd tell her that lying down to mate in a sun nest would be more comfortable than balancing on a bare limb. He traced the backs of his knuckles along a whitish line the ocean left upon her cheek.
Fragile.
She opened her mouth and dragged in a stuttered breath, then slid her steamy gaze down.
Heat scorched his male sex from within, tightening his butt and thrusting his need.
Her hair slithered forward and hid her features from his view.
Tarzan pushed the long strand back, leaving his fingers buried in the softness at the crown of her head. The muscles under his balls clenched, begging him to either take himself in hand or turn the female around. Another drop of male juice seeped out to join the first.
"Just don't kill me."
Mesmerized by her slow, deliberate movement, he watched in fascination as his female tilted back her head, opened her mouth like a blossoming flower, and stuck out her tongue. The drip from the tip lengthened, stretching as the juices pulled to meet her seeking lips.
The longer the fluid hovered over the female's open mouth, the tighter his balls squeezed. The ache of his extended male part increased painfully. He pulled his hand from her hair to grip his throbbing shaft at the base.
A third droplet formed at the slit, pushing forward that which came before it. When the single drip finally touched her outstretched tongue, she slowly raised up on her knees to gather the remaining fluid and lick the droplets up.
Hot pleasure speared from the end of his sex, shot past his tightly gripped fist, and filled his balls with a mating desire that couldn't be restrained. She licked him again, using the tip of her tongue to fondle the underside of the plumed head. He pulled his hips back, letting the hardened length slide through his fist, then shot forward just as fast.
"Ooh-ooh-ooh." Tarzan tightened the hand he'd left tangled in her hair. Pushing ever so gently, he showed her in the language they'd adopted how he wanted her to lick him again.
Check out these other incredible stories in this month's Steam Hop!