Welcome to the
Heartbreakers Blog Hop
We have THREE grand prizes.
You, as a reader, can go to EACH blog and comment with your email address and be
entered to win. Yep, you can enter over 200 times!
Now what are those prizes?
1st Grand Prize: A Kindle Fire or Nook
Tablet
2nd Grand Prize: A $100 Amazon or B&N
Gift Card
3rd
Grand Prize: A Swag Pack that contains paperbacks, ebooks, 50+ bookmarks, cover
flats, magnets, pens, coffee cozies, and more!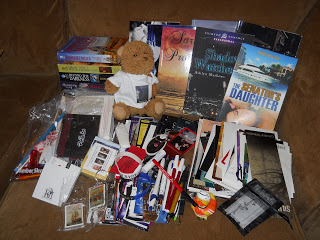 To
visit all the participating blogs in the hop, click HERE.
Additionally,
I have a $20 VISA gift card, good for use anywhere. Just answer the trivia
question before you leave today.
Those
heartbreakers!
They're
too handsome. Too smooth. Too irresistible. Women
flock to them like fish to bait.
In
my book Remedy Maker, I have a side character named Aleksander who's an
undeniable Heartbreaker. Tall, dark, and handsome only defines his outer self.
Fearless,
sexual, and Centaur define the rest of him. Warrior Extraordinaire might be
better.
Here's an opening scene featuring Aleksander:
A gorgeous
dark-haired Centaur, with equally handsome dark eyes, leaned his arms on the
back of the sofa, resting his chin in his palm.
"Well, hello
sweet-thing. What's your name?"
Patience gripped
the edge of the blanket, its soft weave a thin barrier from prying eyes. She
peered out, keeping her face half hidden.
His long fingers
stroked an immaculate goatee, framing perfect white teeth when he smiled. Links
of thick gold chain circled his tanned neck and swung with his movements.
"Leave her alone,
Alek. She's my . . . patient." Rhy closed the front door harder than necessary
and crossed the room in long strides. His brows pinched over his eyes, as he
checked to make sure she remained fully covered. Facing the sorrel-colored
Centaur, he crossed his arms and inclined his head. "Let's talk in the
kitchen."
Alek's smile
grew, but he made no sign of straightening. Double rows of barbed-wire tattoos
wound around his right bicep and jumped when he pumped the muscle. "I don't
think so." He winked and pointed with his chin. "If he's just your remedy
maker, why's your pretty face turning red, sweetheart?"
Cheeks burning,
Patience yanked the blanket over her head with a squeak. Alek's laughter
ensued, followed by hoof beats moving toward the kitchen.
***
Look
for the story of Aleksander, coming soon in
Troll-y Yours.
You can read the
beginning chapters on Wattpad
HERE
.
Before
you leave, tell me if you've ever had your heart stolen by a Heartbreaker.
Thank you for coming today!
Click HERE for more information on Remedy Maker. This book is an Erotic Fantasy Romance rated five flames in heat.
***
Man
by day, Centaur by night, Rhycious is a remedy maker who needs his own healing.
He's the royal
physician, famous for his cures. War and posttraumatic stress disorder has
broken his spirit, preventing him from finding true happiness. Then a direct
order from the queen to investigate an uprising forces him out of his secluded
cabin at the edge of the forest.
Patience
is an optimistic, good-natured Wood Nymph who works
as a mediator to ensure harmony within the Nymph sector.
Environmental
pollution in the aquifer stream that feeds the taproot tree of her heart is
slowly killing her. Resigned to the fact she will not live long, she sets out
to discover the mysterious disappearance of her sister. Experience has taught
her to deny herself the love of a male, but the gruff Centaur is different. He
doesn't push his expectations on her, only his healing nature.
When Rhycious loses his grip on reality, he believes his
inability to control his disorder will drive Patience away. Nevertheless,
desire flares, and Patience draws him close. Kidnapping and betrayal turn their
mythic joint venture into a deadly bout.
Will their love endure when survival hinges on trusting
each other?